(June, 2017) – The seasons officially changes to summer this month, (woohoo!) and with that many people start to book their summer-time vacations. And for most, this means travel with extended periods of time away from their homes. In the property restoration business we often see the damaging results of people being away from their homes, and more-often-than-not, these damages could have been minimized with some preventive measures.
The easiest trick to prevent major water damage in your home while your away is to turn off the water main. By turning the water main off, you eliminate continuous water flow for the entire time you are away. If a dishwasher, or laundry machine supply line were to come off, only the water in the system would leak into your home – not an endless supply! You can also reduce the amount of water in the plumbing lines by draining the system. To drain the plumbing lines, turn on the lowest level tap in your home, a basement bathroom sink or basement laundry room tub is ideal. Just remember to turn that tap off before you turn the water back on, as you may spray water everywhere upon return from your vacation. This whole procedure should only take you 5 minutes, and can save you from having a major water damage disaster.

                                                                                                                                                              Extensive water damage to a finished basement
Another easy trick is to unplug as many electronics as you can., i.e., toasters, coffee makers, cell-phone chargers, and curling irons. Pay particular attention to laptops or computers. These devices can get very hot, causing an electrical short and sparks. Make sure especially with laptops that they are clear of bedding, couches and curtains/drapery. Over the years we have seen several fire losses where the laptop was left accidentally on a soft surface and the machine overheated and sparked a massive fire.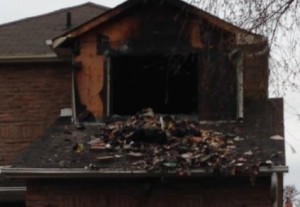 Bedroom fire on the second floor
And thirdly, we highly recommend you have someone check your home every other day. Not only is this usually a requirement of most home insurance policies, it also gives you a peace of mind that you home is being properly taken care of. Also, there are several smart-home solutions that can help add to your peace-of-mind. Video monitoring, and remote climate control are just some of the affordable new solutions on the market today – something our grandparents never had access to!
Hopefully these simply tips help you enjoy you vacation even more, knowing everything is safe and sound when you return home.
Safe travels and thanks for reading,
Matt Douglas, AAS, ASD, WRT
DKI-CRCS
www.crcsdk.com